ADV-19: Kalapaki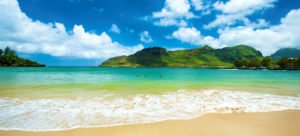 While hanging out with my haumana (students) and friends, I composed this fun, playful piece in Double Slack. We call it double slack because to get there, one often tunes the guitar to Taro Patch (DADGBD) and then take an additional step of tuning the 3rd string down to F#. Thus – the double slack description (DADF#BD).
I love Double Slack! It creates interesting and playful vamps, toggling from the F# as we explore ways to resolve to the key of G. I recorded this piece for my recent CD entitled, "Keola and Moanalani In Concert".
For Kalapaki, double slack tuning elicited the tonality and feeling I wanted, to musically describe both creatures and human beings playing along the waters edge on a beautiful day at Kalapaki Beach on the Island Of Kaua'i.
Level: Intermediate
Tempo: Moderate
Tuning: Double Slack
Length: 3:44
4 pages
Lesson Resources