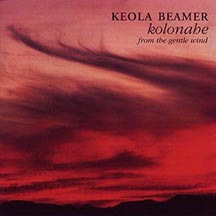 Kolonahe – From The Gentle Wind CD
A gentle breeze is one of the most cherished images in Hawaiian music. In this recording, Hoku Award winning slack key guitar master Keola Beamer lovingly performs thirteen of his favorite songs about or inspired by ka makani (the wind). In the trademark style that has won him fans around the world, he blends a wide variety of sounds, from ancient Hawaiian chant to contemporary instrumental. Guest artists include George Winston and members of the Modern Mandolin Quartet.
In Hawai'i, the creative impulse usually stems from a pleasurable experience. The concept for this recording came to Keola one afternoon on Maui. "I was out in a distant valley sitting under some hau trees enjoying the space, the quiet, when all of the sudden, the most beautiful, refreshing breeze came through. It caressed everything in its path: the trees, the grass, the stones. It changed the whole complexion of that day. At a time like that, how can you feel anything other than peace in your heart? Music is like that too. You can't see the kolonahe, but you can feel its presence. It brings something beautiful into our lives."
Guests can purchase & download this CD from Dancing Cat Records
Produced by Keola Beamer, George Winston and Howard JohnstonEngineered by Howard Johnston. Additional engineering by Mark Slagle, Ron Rigler, Porter Miller and Adam Munoz Mastered at Bernie Grundman Mastering, Los Angeles, CA. Liner notes edited by Corrina Burnley and Kaliko Beamer-Trapp
Mahalo:
Nona Beamer for her constant inspiration. My wife Moanalani Beamer for still hanging with the band. Marty Kirkman, Kaliko Beamer-Trapp, Leona Duarte, Jay Junker, Hella Kihm, Keola Donaghy and my niece, Kehaulani Smith. John Imholz, Paul Binkley, Dana Rath and Chris Orrall.
Keola's beautiful custom guitars out of koa and mango wood are built by: Steve Grimes of Grimes Guitars, PO Box 537, Kula, HI 96790, 808-878-2076. email: grimes