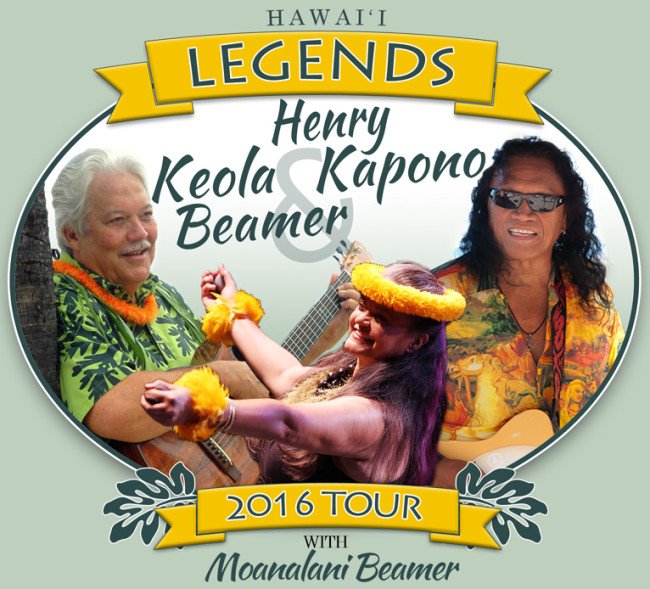 Keola Beamer and Henry Kapono Tour 2016
Join Keola and Henry for a set of amazing concerts!
"Keola Beamer and Henry Kapono are two legends of Hawaiian music. Each became an icon in the 1970s, both at the creative forefront as Hawaiian music reinvented itself. They have continued to lead the way for over four decades.
"Despite their common history, Keola and Henry just performed together for the first time in 2014, when Henry invited Keola and Moanalani Beamer to take part in Back In The Day. This wildly successful show featured Hawaiʻi's musical greats who shaped Hawaiian music starting in the 1970s during the 'Hawaiian Renaissance' — the seminal movement in Hawaiʻi's cultural history that brought back language, music, hula, art, and all aspects of Hawaiian culture to their central place in the life of the Islands.
"Keola and Henry will each perform a set, and then come together onstage to celebrate their original songs that have become beloved classics of contemporary Hawaiian music."
— Press Release
Keola Beamer: "The Quintessential Hawaiian Slack-Key Guitar Master." - The New York Times
Henry Kapono: "Kapono is one of the great island songwriters of his generation." - Honolulu Star-Advertiser
JAN 21, 2016
Triple Door - Seattle, Washington
JAN 22, 2016
Aladdin Theatre, Portland, Oregon
JAN 23, 2016
The John G. Shedd Institute for the Arts, Eugene, Oregon
JAN 28, 2016
MIM Music Theatre - Phoenix, Arizona
JAN 29, 2016
Smith Center - Las Vegas, NV
1st Show, 7:00 PM
TICKETS
JAN 30, 2016
Smith Center - Las Vegas, NV
Special Added Show, 3:00 PM
TICKETS
JAN 30, 2016
Smith Center - Las Vegas, NV
2nd Show, 7:00 PM
TICKETS
JAN 31, 2016
Harris Center - Folsom, CA
FEB 3, 2016
Freight & Salvage - Berkeley, CA
FEB 4, 2016
Rio Theatre - Santa Cruz, CA
FEB 5, 2016
California Center For The Arts - Escondido, CA
FEB 6, 2016
Irvine Barclay - Irvine, CA