About Keola Beamer
"Keola Beamer's [slack key] style is the best there is on the planet", says Willie Nelson. Keola Beamer has breathed new life into slack key guitar music yet stays true to its deep Hawaiian roots. He is a Hawaiian legend: singer-songwriter, composer, guitar master, with an impeccable, gorgeous style that is featured on The Descendants soundtrack and his 16 CDs. Keola was one of the first to use Hawaiian slack key techniques to create contemporary music that is also at home on jazz or classical stages. His wife Moanalani Beamer joins Keola in performances with her beautiful hula and the exquisite sounds of traditional Hawaiian instruments.
Keola Beamerʻs well of talent springs from five generations of Hawaiʻi's most illustrious and beloved musical families. Keola's mother was revered Hawaiian cultural treasure, Aunty Nona Beamer. His great-grandmother was one of Hawaiʻi's most illustrious composers, Helen Desha Beamer. The Beamers trace their roots to royal families of the 14th century and have been cultural practitioners through generations.
Keola established himself early as a leader of the wave of contemporary Hawaiian music when he wrote the classic Honolulu City Lights - which is still one of the absolute all-time best selling recordings in the history of Hawaiian Music. Keola was also the author of the very first written instruction book for the Hawaiian Slack Key Guitar, published in 1972.
---
Please note that with Keola's supervision and direction, this site contains the best learning center and resources available for the Slack Key Guitar. Please see the menu on the upper left corner to begin your exploration. New material is added by Keola on a regular basis, so please feel free to check in as often as you would like.
Keola is a world-renowned Native Hawaiian Musician, Hawaii Academy of Recording Arts Lifetime Achievement Award Recipient, Multiple Grammy Award Nominee, Multiple Na Hoku Na Hanohano Award Winner (Hawaiian Grammys) Native Arts and Culture Foundation Fellow. He is an Award Winning Author and Artistic Director of The Mohala Hou Foundation, which presents Aloha Music Camp. In January of 2018 Keola was appointed Board Chair of Aloha Kuamoʻo ʻĀina, a 501c3 non-profit formed for the protection and preservation of the Kuamoʻo Battlefield and Burial Grounds in Kona, Hawaii.
You will find information here on all of Keola's releases, his Aloha Music Camp, online lessons, tablature, instructional books & DVDs, humor, bio, family history, and much more.
---
The Latest Updates
March 3, 2018 
My wife Moanalani and I have just returned from a tour in Japan. What a great time we had! Working with professional presenters and wonderful performing facilities, its a blast to perform in Japan. I note that I am also a big fan of Japanese cuisine and sake!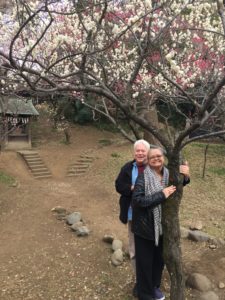 Slack Key Guitar is quickly growing in popularity and I had the opportunity to conduct a workshop with Japanese guitarists. I taught my piece, "Kalapaki" and haumana (students) learned it so well that they performed it the following night in concert. Their performance was lead by Makalani who is one of my absolute favorite Japanese Slack Key Artists in Japan. View their performance at Keola's Workshop Haumana In Japan.
Music truly bring people and cultures together. I am so very grateful for the journey of music in my life.
With Aloha,
Keola Beamer
February 14, 2018 
I had a wonderful week with our haumana at
Aloha Music Camp 2018
. It was a week of music, laughter, great food, fun and lots of aloha! The students in both my intermediate and advanced classes worked hard and both classes played great at our final performance night (Ho'ike). Speaking for all our kumu, we are so blessed to have wonderful participants.
We are currently finalizing the details of our upcoming March 2019 Camp at the Coconut Beach Marriott on Kauaʻi. We will notify all previous Campers via email before the registration form goes online. If you wish to add yourself to our mailing list, please send us a request via our Contact Us form. We will be sure to add you in!
Please note that AMC sells out quickly!
Keola Beamer
January 31, 2018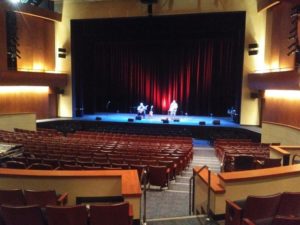 Iʻve had a great time on tour with Henry Kapono and Moanalani. Weʻve had wonderful audiences and almost every date has been sold out. Along the way weʻve had two tour managers, Craig Law & Ben Crew, who have done a superb job, and dear Haumea Ho, who has been expertly handling the Merchandise. Moana and I extend our sincere mahalo to Henry and Lezlee and their keiki. Its been ʻohana on the road and we are blessed.
We conclude the tour tomorrow night Feb 1, 2018 at The Broad Stage in Santa Monica, then we leave the next morning for my Aloha Music Camp on Kauaʻi. Its going to be a great week and I canʻt wait to see our kumu and many friends from around the world.
me ke aloha,
Keola Beamer
January 11, 2018 
Keola and Moanalani Beamer with Henry Kapono
We have kicked off the "Legends" tour in the US Mainland. Please visit the tour page for more information and to purchase tickets for the venues. We look forward to seeing you there!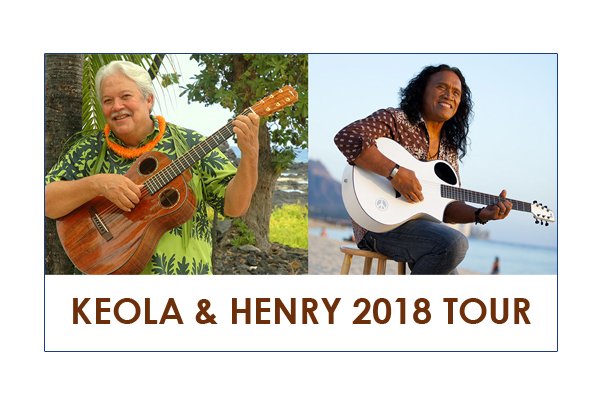 January 2, 2018 
Happy New Year!
Recently, I participated in an interview with Heidi Chang of NPR (National Public Radio) discussing Gabby Pahinui, considered by many to be the "Father" of The Hawaiian Slack Key Guitar. Talking story with Heidi bought back some wonderful memories of the times Gabby and I were drinking beer and playing music in Waikiki, way back in the day! NPR aired the interview on Jan 1, 2018. Check out "Remembering A Legendary Hawaiian Musician".
December 29, 2017 
I'm really looking forward to touring with my friend - Henry Kapono coming up soon!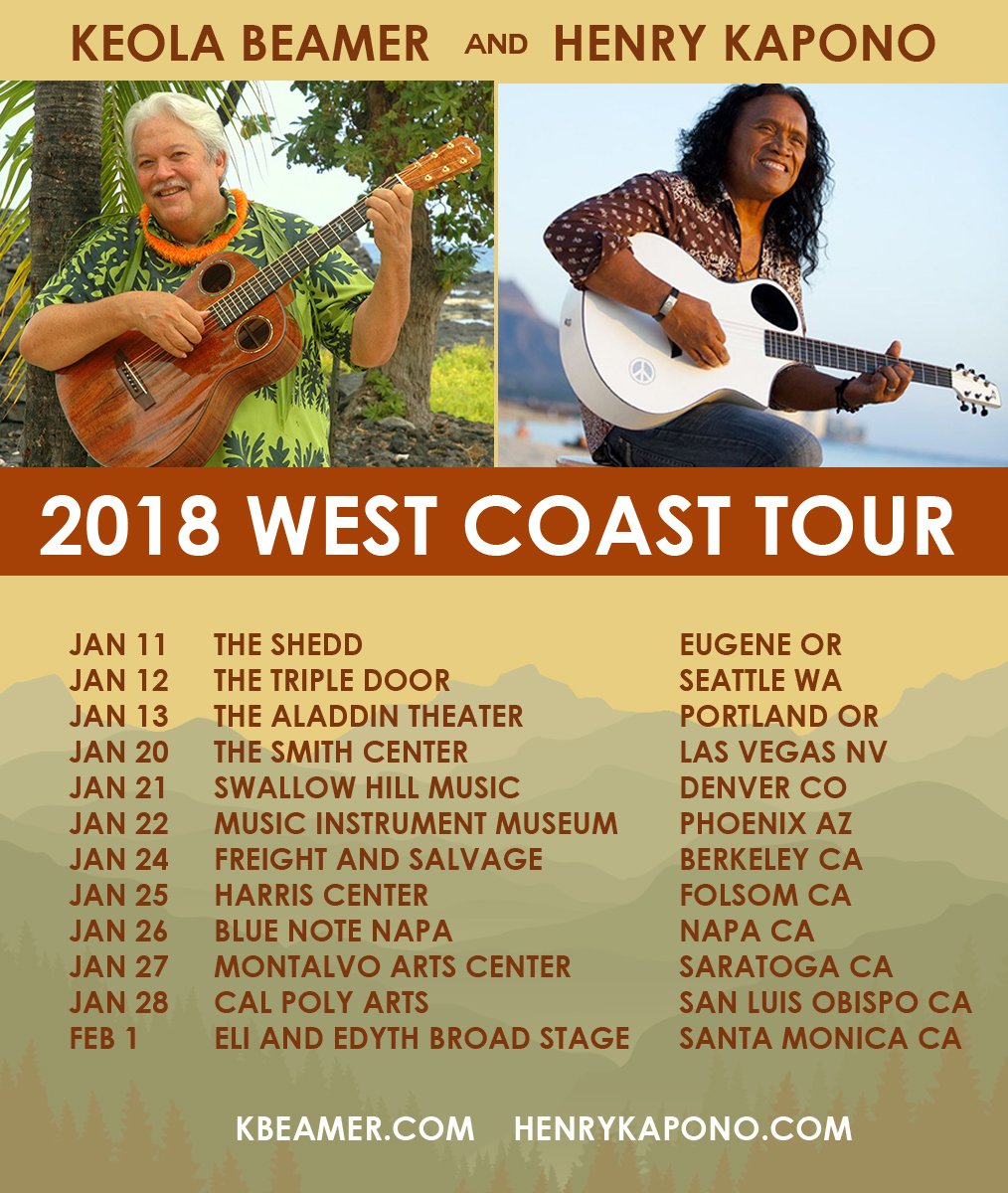 December 21, 2017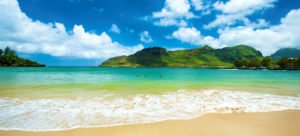 Aloha Kalikimaka! (Merry Christmas!) Weʻve just added an Advanced piece that I wrote on Kaua'i called, Kalapaki. It's a wonderful double slack exploration that I recently recorded on our new CD, "Keola & Moanalani In Concert". If learning a double slack piece intrigues you - check out ADV-19: Kalapaki
October 17, 2017 
Weʻve just added an Advanced Solo Version of my momʻs beautiful song, Pupu Hinuhinu. Its a great solo piece! ADV-18: Pupu Hinuhinu
September 21, 2017 
Weʻve just released a new CD! Whew ... it took awhile!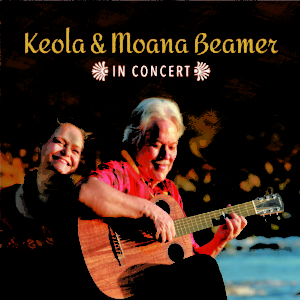 For our members we offer this CD at no charge. Please see Keola & Moana Beamer In Concert. For non-members, please see iTunes or CD Baby.
August 17, 2017 
One of my favorite Music writers, Jon Woodhouse (Maui News) just published an article about my recent work.I am sincerely grateful for the journey of music. What a gift it has been to explore he world through the lens of the Hawaiian Slack Key Guitar.
Please see: MauiNewsKB
July 21, 2017 
I had a wonderful evening with my friend Benjamin Verdery.
Ben's students were performing in concert as a part of his master class on Maui. These young guitarists performed beautiful and inspiring pieces offered with advanced technical expertise, direct evidence of Ben's excellent musicality and awesome skill as a teacher.
It was so great to feel the artistry and potential of our next generation. My wife Moana and I wish all of Ben's master class success and artistic fulfillment as they begin their journey in the world of music.
I drove home feeling inspired and grateful for my own family who put up with my mischief before I found a meaningful path for my life! I was remembering the patience and kindness of my mother, Nona Beamer, so I added one of Hawaii's most beloved pieces to our website. "Pupu Hinuhinu" was written by my mom and is still cherished throughout Hawai'i. I've included her background materials and my arrangement for solo Hawaiian Slack Key Guitar in C Wahine (Keola's C). Check out BEG: 25 Pupu Hinuhinu in our beginning realm.
With Aloha, Keola
July 14, 2017 
Its truly a sad day for 'Ohana Beamer. We lost my Uncle Mahi Beamer this morning. He passed away peacefully a few hours ago at Kuakini Hospital on Oahu.
Uncle Mahi's beautiful falsetto will live forever in the pantheon of Hawaiian artistry. His recordings, iconic and superlative will remind us of a time more graceful, of a life well lived. I will miss him with all my heart.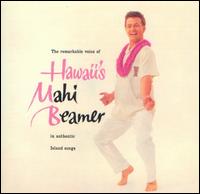 June 10, 2017 
Weʻve just added a terrific slack key solo in DOUBLE SLACK. Its got a very cool feel and vibe. For a good dose of fun check out INT-26 Kamakani Oluʻolu in our Intermediate Realm.
May 26, 2017 
Moana and I would like to extend our deepest aloha to our members and extended 'ohana. We are leaving to the Island of 'Oahu to participate in the Lantern Floating Event at Ala Moana Beach Park. I'm with a canoe crew that retrieves the lanterns at the end of the evening. We gather the lanterns and return them to the shore to be re-cycled. The prayers are gently removed from the lanterns and taken to Japan, where they are blessed and sent to the heavens in a Saito Homa (Fire) ceremony. About 40,000 people are expected to attend this year.
I was inspired by the Lantern Floating Ceremony to write a song called "Our Time For Letting Go" on my Grammy Nominated CD "Malama Ko Aloha."
I'm looking forward to adding new teaching materials to kbeamer.com when I return from 'Oahu in early June.
March 28, 2017 
One of my most favorite times during our performances is the few minutes after sound check when everything is dialed in technically and I have a few minutes to run through some music before the doors open. Its great to feel comfortable on stage, knowing you are prepared, relaxed and happy.
March 13, 2017 
I am looking forward to performing with my protege / hanai son and awesome guitarist - Jeff Peterson and my sweet wife Moanalani. (Moanalani is an authentic kumu hula or "Hula Source") Jeff and I have some wonderful duet and solo slack key pieces to share with our audiences.
At the venues, we try to come to the front of the auditorium right after the conclusion of each show.  This is a great time to meet members and to "talk story" about YOUR music and how you are proceeding with your lessons from kbeamer.com.
So if you get a chance, please come check out the concert and then stay afterwards for a some "Aloha time."
See our current tour schedule here.
Keola Beamer, Lahaina, Maui, Hawaii
---
February 19, 2017 
We've returned to Maui after the the conclusion of wonderful Aloha Music Camp 2017 on the island of Kaua'i. We had a great week of music, food and fun! For my advanced class, I taught one of my original pieces entitled, "Wi Ha". The Big Dogs (2 awesome ladies running with the Big Dogs this year) blew through the piece and did an excellent performance for our Ho'ike night. Way to go Big Dogs!
My class thoroughly enjoyed exploring this taro patch guitar solo and you will too. We've just added it to the advanced realm at ADV-17: Wi Ha
---
December 20, 2016
To celebrate the holidays with our valued members, here is my sweet and easy-kine arrangement of "The Little Drummer Boy" for solo guitar. It is in my C (C Wahine) tuning.
Little Drummer Boy
'Ohana Beamer wish you and yours a wonderful holiday season. May your holidays and new year be filled with the spirit of aloha.
Me ke aloha,Keola Beamer
December 15, 2016
Moanalani has done a beautiful job decorating our Christmas tree and we want to be sure to wish our family and friends a happy holiday season!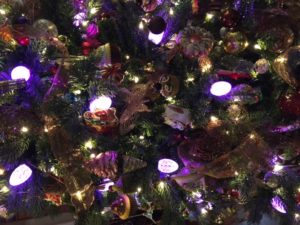 To celebrate Aloha Kalikimaka, we've just uploaded "Sanoe", a beautiful solo piece for the Hawaiian Slack Key Guitar, written by Queen Lili'uokalani and arranged by Keola Beamer. Your study materials include video, audio and .pdf notes (including historical information) for this lovely song.
In Hawai'i, distant memories of Queen Lili'uokalani are held close to the heart of the Hawaii's people. Besides being a compassionate and caring leader, the queen was also a wonderful composer.
We know you will enjoy this wonderful piece and we hope that it will help you celebrate the beauty and aloha of the holiday season!
Sanoe
Please note that about 3:17 into the video lesson notes for Sanoe, there is a really helpful bar exercise for those of you that may be having difficulty with bar chords.
With our aloha and best wishes for a Mele Kalikimaka!
November 23, 2016
I just finished recording the score for the 3D movie "Tibetan Illusion Destroyer" in a recording studio in Kathmandu, Nepal. The musicians were terrific. Together we overcame difficulties of language and musical notation to create a wonderfully organic musical score. Its going to take about a year for the film to be released, and we look forward to its release and sharing it with our new musician friends in Nepal.
Moanalani and I took a couple of days off and flew to Lukla - which, last time I checked, was listed as #1 most dangerous airport in the world! What an adventure that was!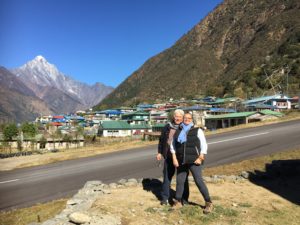 No matter how many places weʻve visited in the world, there really is no place like home. We are looking forward to returning Maui and sharing a Thanksgiving meal with our family and friends.
---
November 7, 2016 (We're one day ahead in Japan)
I played last night with master Shamisen artist Hiro Kurosawa at a concert hall in Isei, Japan. It was a wonderful blend of cultures and sound. Hawaiian Slack Key Guitar and Japanese Shamisen? Is that outside the box or what? In my life, I have found it so interesting to explore the sounds and textures of word music.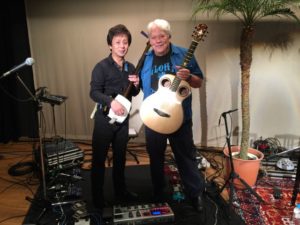 In the second photo, the Shamisen prodigy shows me his very high tech set-up. This clearly illustrates the Shamisen coming into the digital age, being re-born in a new century.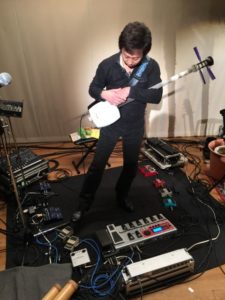 ---
November 6, 2016 
A quick note from Japan. I've received notification from Hawaii that our Aloha Music Camp site was hacked by person / persons in Russia. My brother Kaliko is re-building the site and the address will change to .org which was something we wanted to do anyway, but annoying to have to deal with it so suddenly. If you log on to the present site - you will see that is is being refreshed.
In the meantime, on my way up to the dressing room last night, I saw this warning on the elevator door. Its to prevent a guitarists' career ending injury!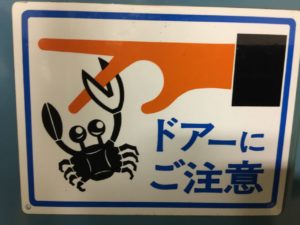 ---
October 27, 2016 
My wife Moana and I are leaving for a concert tour of Japan in a few days. We are looking forward to our journey. Although we have performed in Japan for many years, this will be our first trip to Hiroshima where we will perform in a Peace Concert.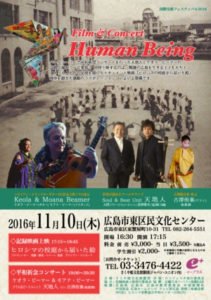 I am additionally thrilled to play with a master Shamisen artist. Shamisenist Hiro Kurosawa, has won the Nitaboh Award, the profession's highest achievement - thrice in a row. Hiro is a gifted musician and superb performer. The blend of Shamizen and Hawaiian Slack Key Guitar, sounds a bit radical, doesn't it? Ha Ha! I am curious to see what will happen and I hope my students will hold a good thought and keep their fingers crossed for me! Collaboration is good for the soul. It really does bring cultures closer together.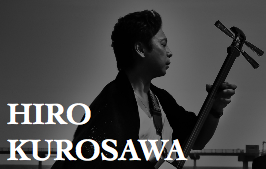 October 23, 2016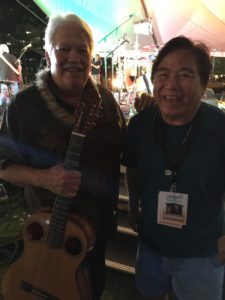 I performed last night in Waikiki at a major benefit to support the issue of homelessness in Hawaii. It was a terrific show. The Hawaii for Hawaii event raised nearly $800,000 by the time we left. Hawai'i's high cost of living, plus the normal stressors drive people into homelessness. Its important to acknowledge the problem and work towards solutions. The money we raised last night will go to the Institute for Human Services which provides shelter, consulting and job placement. I'm grateful for my fellow musicians and entertainers who put their hearts our there to make this event a success. The above photo is me backstage getting ready to go on with my awesome guitar tech, Cary Hayashikawa. The below photo is of my wonderful friend - Henry Kapono, Myself and our sweet sister, Robi Kahakau.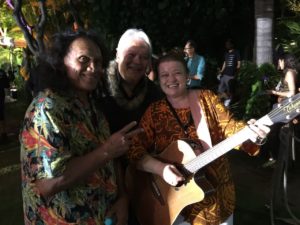 For those of our fans who supported this event through your donations during the live telethon on KGMB Television (Honolulu). Please accept our sincere thanks and aloha.
September 25, 2016 
We had a wonderful show last night in San Diego. It was one of those nights where the performers bought their very best to the table, myself included. Here is a photo of our friends and fellow musicians' Gillian Margot and Geoffrey Keezer during their sound check.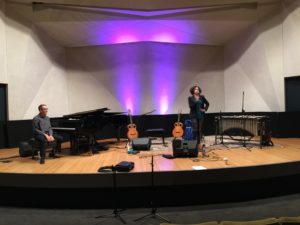 Tonight we will be at the Soka Performing Arts Center in Aliso Viejo CA. Its a beautiful performance space and Moana and I are really looking forward to it.
September 20, 2016 
For our friends and fans in the Phoenix, Arizona area of the country. I'm playing at 7 PM tonight with Jazz Pianist - Geoffrey Keezer at the Musical Instrument Musuem. Is a beautiful theater with awesome acoustics.



September 11, 2016 
For our valued members ... we've just uploaded a wonderful piece in F Wahine to the Intermediate Realm. Its got a great feel! Check out INT-23: Ku'u Lei Awapuhi Melemele.
September 6, 2016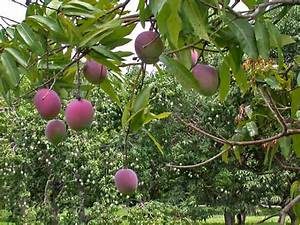 How did you discover your interest in Slack Key Guitar? Was it hearing the music on a CD that you got for Christmas? Or maybe you heard Slack Key music on a radio program? Or maybe you heard Keola's music in the George Clooney film, "The Descendants"?
In this charming 2 minute Hawai'i Public Radio - "Story Corps", Keola shares how he first discovered his love for Hawaiian Slack Key Guitar. It was under a mango tree, at a family gathering. It's an interesting story with a bit of a twist!
Keola Finds Slack Key from Hawai'i Public Radio
August 28, 2016 - Ry Cooder and I had a super time on Maui. We ate at some great places, drank some very nice wines and ... oh yeah .... bought out the guitars! Friendship and music are such great blessings. - KB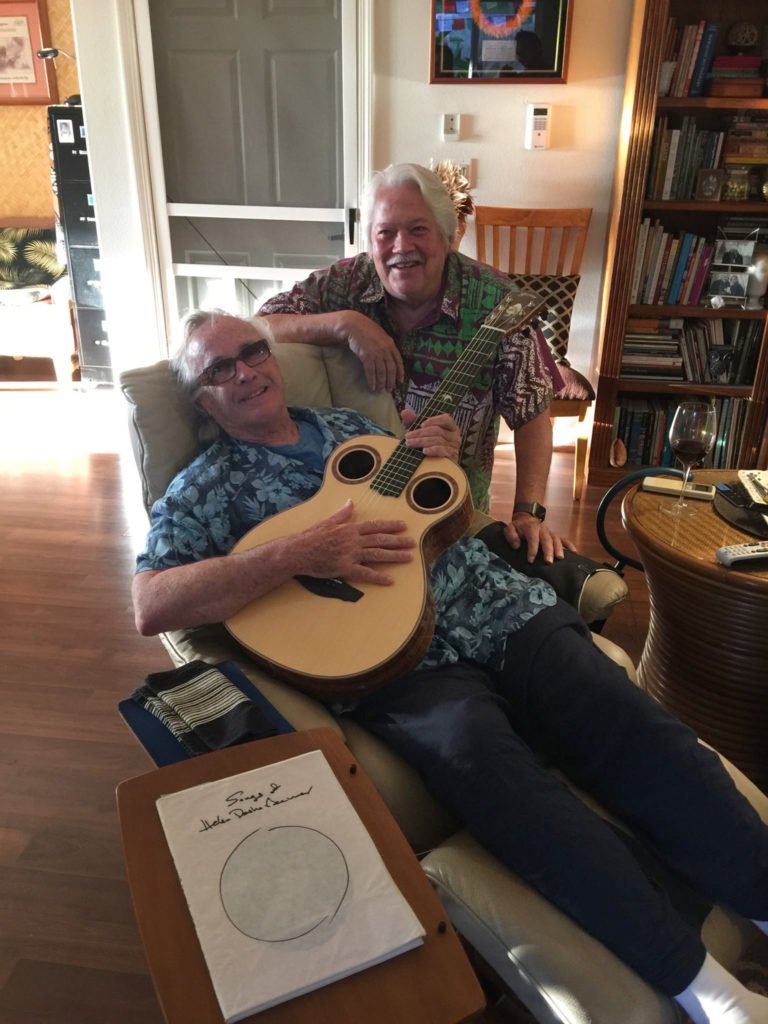 August 27, 2016 - Aloha Kakou!  It has been almost five months since we brought the gift of music to Cambodian children.  We provided 'ukuleles and instruction to 41 kids.  We were all so impressed with their enthusiasm for learning 'ukulele--and yet we wondered, would they stick with it after we left?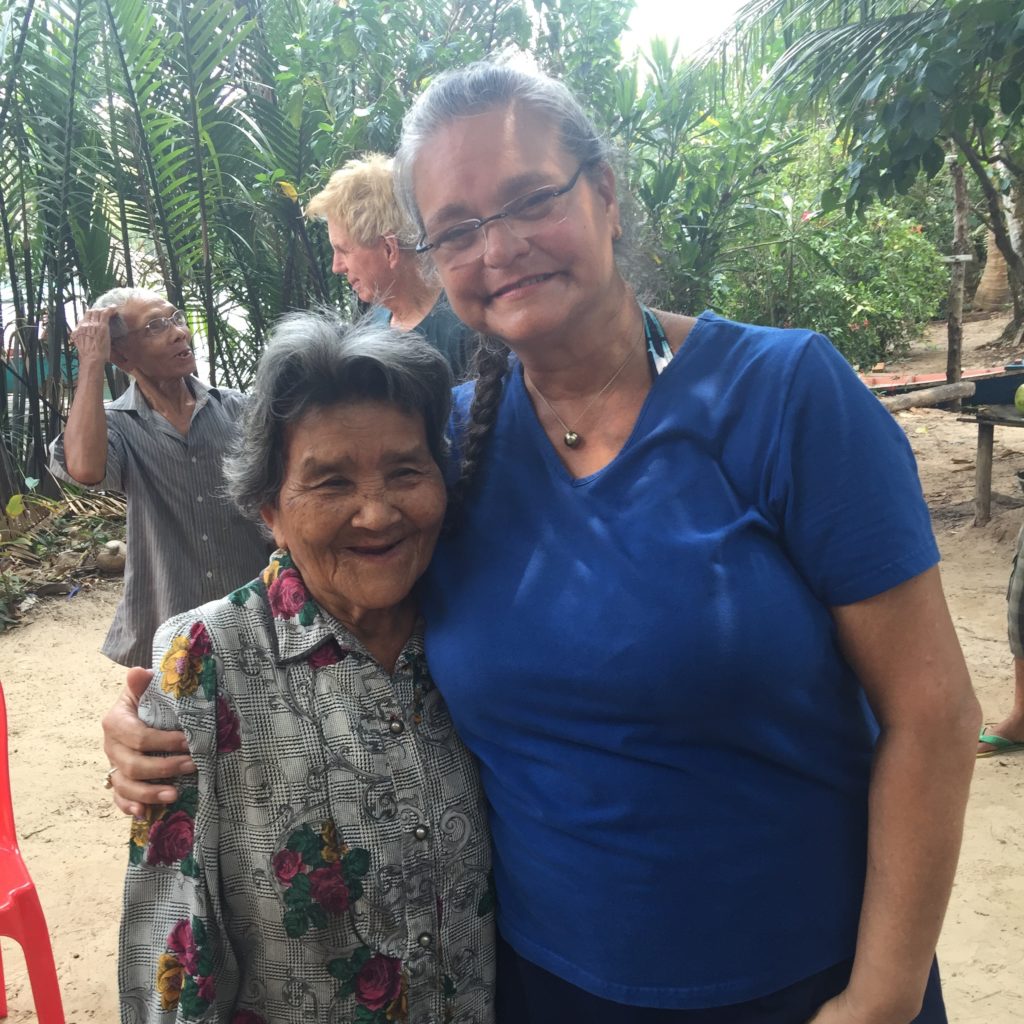 That question was answered today with a Youtube video sent to us by one of the Cambodian teachers we worked with on this wonderful program.  The video shows our students at a recent performance, playing the instruments we provided and singing and playing a Cambodian song.  This has worked out exactly as we had hoped! They have progressed so far in such a short period of time!
The Gift of Music From Our Cambodian Kids!
On behalf of Mohala Hou Foundation, the Beamer 'Ohana, and our group of volunteer instructors, we would like to thank those who most generously supported our program.
August 18, 2016 - Keola walks the walk, with his friend, amazing guitarist Ry Cooder. The legends are currently hanging out, talking story and exploring the beautiful shores of Lahaina, Hawaii.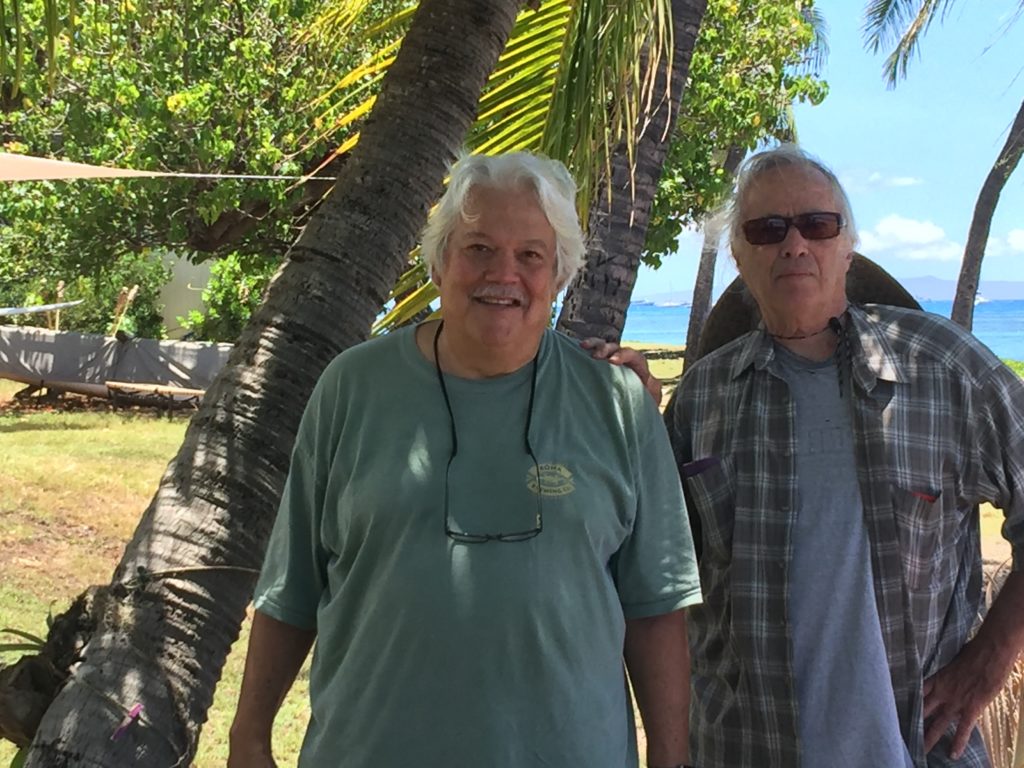 August 16, 2016 - We've just added 11 of Keola Beamer's Performance Videos to our website. These wonderful performances and Keola's turnings are yours to explore as a part of your valuable membership.
August 2, 2016 - We've just added 9 of Keola Beamer's Award Winning CD's to our website. These wonderful recordings, Keola's turnings and liner notes are yours to explore as a part of your valuable membership. Mahalo nui loa to our slack key 'ohana!
July 13, 2016 - Keola just added a powerful new tool to the Intermediate Realm. Check out - The Rehearsal Journal
July 11, 2016 - We've just added two new beautiful pieces to the Intermediate Realm!
Intermediate Piece # 21 Mino'aka
Intermediate Piece # 22 Papa's Okolehao
July 1-10, 2016 - I returned from working with sound designer Christopher Hedge in California. Chris and I were working on the score for a new film by Director Dr. Thomas Vendetti. It's a film called "Tibetan Illusion Destroyer". I recorded most of the score in Kathmandu in November of last year, working with some excellent musicians there. Its been a wonderful musical journey and I've learned so much, especially about the beautiful tonality of their native instruments. The film should be released this year. I'll be sure and let our friends know when the release date gets close.
When we got back to Hawai'i, Moana and I flew immediately to Kona on Hawaii Island to host the young people of Kupu - Hawai'i Youth Conservation Corps as they volunteered their services for Aloha Kuamo'o 'Aina, our non-profit tasked with the protection and preservation of Hawai'i's sacred Battlefield of Kuamo'o.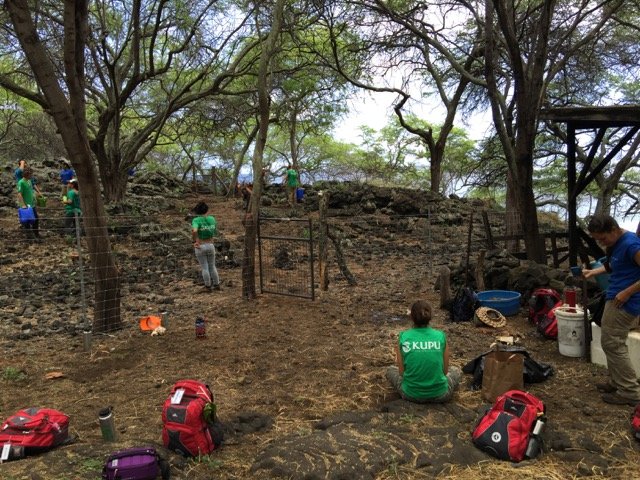 Kupu is centered on environmental conservation, restoration, education, and cultural awareness. HYCC gives individuals the opportunity to work outdoors with environmental agencies across Hawai`i and learn the principles of natural resource stewardship, while gaining valuable experience, knowledge, and skills that assist them in continuing their life pursuits.
It was an honor to share aloha with these young people as they worked tirelessly to malama our beautiful 'aina.  Aloha Kuamo'o 'Aina's Program Director - Kamuela Meheula did exceptional work in organizing and coordinating Kupu's visit. I am deeply grateful and honored to work with both her and Kupu. The photo above shows a few of the group planting in a newly protected area for the propagation of native species.
June 2016 -We've returned from our programs in Columbia where we had a great time spreading aloha and sharing music with people from all over the country. We worked with students and teachers and did some filming for Television in San Andres and for the U.S. Embassy in Bogota. It was a great trip and we are so grateful to have the opportunity of sharing our culture.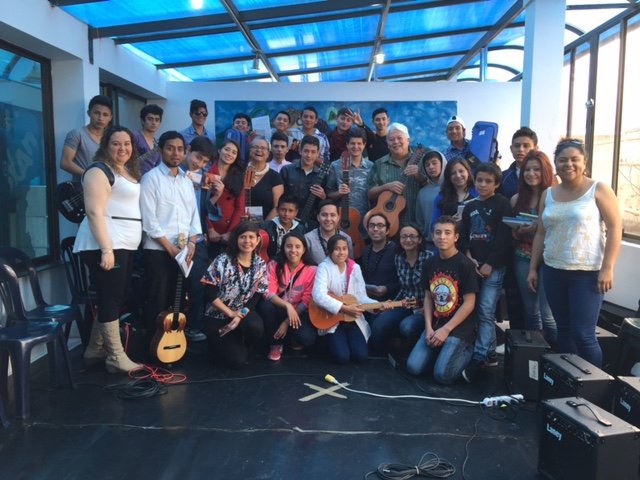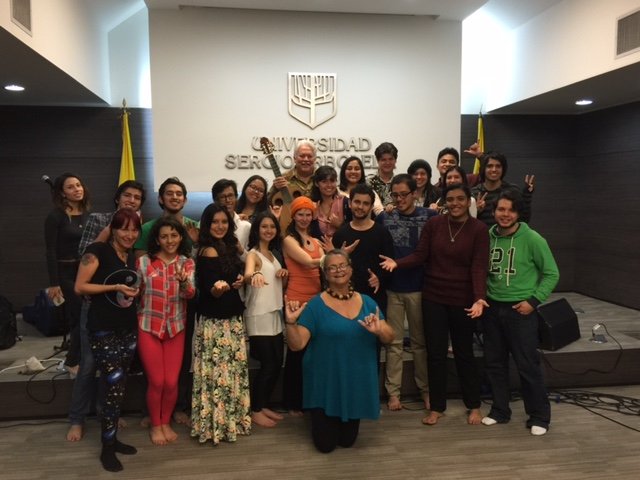 May 2016 - Weʻre gearing up for a May 2016 tour in Columbia, sponsored by the U.S. Embassy in Bogota. Renown guitarist and my dear friend- Jeff Peterson will be joining us. We are looking forward to spreading the Aloha a little further from Hawaiiʻs shores. Weʻve been really enjoying our association with U.S. Department of State and have been honored to be received in Brazil, Venezuela, New Zealand, Zimbabwe, and South Africa.
Mahalo for the generous contributions of our web-ohana and AMC family that made our Ukulele's in Cambodia a resounding success! It was a great trip and the kids learned a lot!
Aloha Music Camp is coming up quickly! Keola and friends will be there Feb 5 -11th, 2017.
Late in 2015 we had wonderful news! Keola's Two year journey has come to a conclusion: Kuamoʻo Battleground will forever be protected!
---
"Aloha is Hawaiʻi's greatest gift to the world." - Keola Beamer